Liverpool striker Peter Crouch insists that the speculation linking him to a move to such clubs as Manchester City and Aston Villa are just media nonsense.
Media reports have suggested this season that Crouch has been upset on a couple of occasions at being left out of the reds side, but speaking earlier it appears Crouch understands Rafa's policy with the players at Anfield.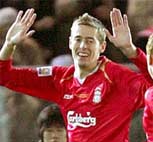 "Everyone talks about me talking to clubs. Maybe it's because I'm not playing every game.
"But at a club like Liverpool you're not going to play every game.
"I've come to realise that this is the case at a club like this, whereas at somewhere else maybe you would play every game.
"But here we are competing for things and I certainly want to be a part of winning trophies."
When asked about interest from other clubs, Peter said:
"I've not heard anything.
"No-one's approached the club and no-one's approached me.
"There's a lot of speculation and, like I've said, that probably comes down to the fact that I'm not playing every game. But hopefully if I get a good run of games towards the end of the season then those rumours will go away."