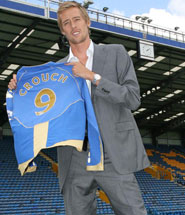 Former Liverpool player Peter Crouch has spoken to the media following his transfer to Portsmouth from Anfield, and insisted that it is not a step down.
"It is fantastic to be back, the club is going places and I have worked here before and the manager always gets the best out of me."
"I feel I have got the best years of my career to come and it will be at Portsmouth.
"I have left a great club but this club is going where it can be.
"I had a fantastic three years at Liverpool and I would not change it for the world. I am privileged to have played for such a top club.
"Towards the end I did not get as many games as I would have liked but I will only take good memories away.
"In no way am I stepping down, I feel I am joining a club that is going places with a new stadium, a new training ground and some very good players."