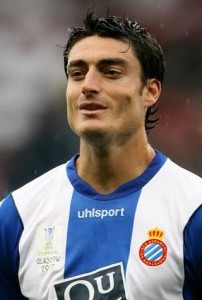 There is a saying in Liverpool that no matter how badly Liverpool are doing, Everton always do worse.  Unfortunately for Evertonian's the saying usually runs true – hence the bitterness amongst our blue friends.
Whilst we do indeed have the Chairmen from hell and have had an embarrassing affair with Gareth Barry, the woe over the other side of the park has, as expected, been even more humorous.  Managers not renewing contracts, Chief Executive walks out, stadium plans thrown out, some of their more average players getting off, not being able to sign any new players and now, the final insult, a player not wanting to go to Everton because he wants to go to Liverpool instead. Remember Momo Sissoko…
Albert Reira, the Espanyol winger, has been the subject of enquiries from both Everton and Liverpool.  Everton offered the required €12 million (£10 million) and the club agreed on the fee.  Liverpool offered €9 million (£7.5 million) and the club said no to the fee.  Guess where the player wants to go?
Paco Herrera, formerly Rafa Benitez' head scout and now sporting director of Espanyol said:
"This is a sensitive time, and we need to make sure we reach a solution one way or another."
"Everything is going well and a deal can be reached. The differences we have are ones we can solve."
"There is a team which is offering what we have asked and another one which isn't, but the player is interested in the one which is offering the least. We will not lower our asking price."
Riera spent an unsuccessful spell on loan at Manchester City in 2005 and is 26 years old.  He was instrumental in Espanyol's remarkable UEFA cup campaign of 2006/07.
A decision is expected in the next 48 hours.