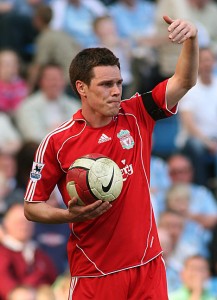 Steve Finnan, who will be on international duty this Wednesday night with the Republic of Ireland, has no idea what his happening with his Liverpool future.
One of Liverpool's regulars in recent seasons has apparently been frozen out by Rafa Benitez.  Finnan was widely tipped to be used as a make-weight in the Gareth Barry deal, but rumours close to Anfield suggested the Irishman had refused to move away to Aston Villa.
Whether this is the the reason for the players failure to travel with the first team squad to either of the last two fixtures is not fully known. When asked by reporters ahead of the international in Oslo, Steve was asked if he was in 'limbo'.
"Limbo sounds about right, yes.
"I haven't got a clue, to be honest with you. I haven't played many games recently, so I honestly can't say.
"There is a big squad there and everyone is fighting for their place, and I just have to train well and take the chance if I get it."
However the player then gave a clue that he had indeed rejected a move away from Anfield by wanting to see what happened after the transfer window closes. He was asked if he had thought about a move away.
"You would have to ask the club. I have been trying to get into the team.
"I haven't played, but I will just wait and see and when the transfer window closes, we will know then.
"I will wait and see if I can get into the team; if not, then obviously I want to play, so we will just have to take it from there."
But had he discussed it with Rafa Benitez? Steve remained coy.
"We have spoken about it, but at this time, I don't think I will say too much more."