Steven Gerrard has been speaking about the England captaincy and new boss Fabio Capello after the first day of training with new Italian/England boss.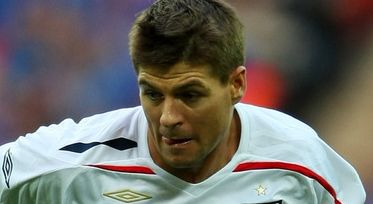 "Everyone's nervous because it is a new manager and we don't know much about him and he doesn't know much about us," said the 27-year-old.
"We had a quick meeting last night and he told us it is a fresh start for everyone.
"He wants a winning mentality around the place and he wants to build a winning team and wants players pulling in the same direction.
"He thinks we can improve defensively and going forward and we were straight into it this morning.
"He is a very good manager and you want to work with the best and the FA have certainly employed one of the best managers in the world."
"Different managers have different ideas and rules. It takes time to adapt and I'm sure we will do in time but the first 24 hours have been good.
"I don't think as a footballer you are scared of any manager but you have to respect them and you have to adapt to what the main man wants.
"You want to impress the manager. No-one is guaranteed a starting place so we have to use these friendlies to impress.
"It is also a chance to get back to winning matches."
John Terry is not involved with England this week and Gerrard looks likely to be named as England Captain.
"Of course it would be a great honour. We have to respect the fact John Terry is still our captain. He is not involved so we will have to wait and see who the manager will go with.
"But until he makes that decision I don't want to say too much."
Gerrard also believes that Beckham wont be waiting too long for his 100th cap.
"I'm sure once he is back playing on a regular basis he can convince the manager to pick him.
"Everyone is talking about the 99 caps – David has to get back playing football and I'm sure the 100th cap will come.
"He (Capello) makes the decisions and all the other players go along with it."