Steven Gerrard has become only the 4th person to be given the Freedom of his home borough, Knowsley, in Merseyside.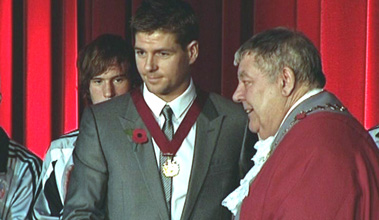 He was presented with his award last night at the Huyton Suite in a ceremony in which he spoke of his pride at the area in which he was brought up.
"This is a very special honour for me and even more so as it is awarded so rarely, so I'd like to thank Knowsley Council.

"I'm very proud of the area that I grew up in and proud of the community I came from. Growing up on the streets of Huyton helped me get to where I am today.

"These are the family and friends who have been with me since I dreamt as a boy of being a professional footballer."
Former Prime Minister Harold Wilson was the first to receive the honour – he represented Huyton as MP during his time in office.
The award was given to Steven Gerrard for..
"his outstanding contribution to national and international football and his position as a role model to young people".
Leader of the Council Cllr Ron Round, said:
"Steven is one of the greatest individual success stories to come out of Knowsley in recent years. Knowsley has a long and celebrated history of nurturing footballing talent and long may this continue."

"He is an excellent ambassador for Knowsley and a great role model. His story is one of talent, commitment and passion which has seen him grow into a world-class player.

"It sends a message out to young people everywhere that with hard work and persistence, they too can realise their dreams."