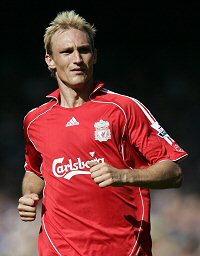 The return of Daniel Agger to the Liverpool first team after missing nearly all of last season has been hailed by Liverpool fans, but 35 year old centre-back Sami Hyypia has also congratulated the 'Dagger'.
However Sami, entering an impressive 10th season with Liverpool, is as determined as ever that he has what it takes to be the Liverpool centre-back.
"It's nice to have him fit because players always want to play and it will have been hard for Daniel to deal with not being fit for so long.
"It must have been devastating for him to be out for almost a whole season.
"It is not something I would really know about because I have never suffered that kind of thing but I'm sure it was very difficult for him.
"But I am really glad that he is back and he can help the team to win trophies.
"I am sure the manager is happy because it means he has five centre-backs to choose from now.
"That means we all have to fight for our place but that is the way it has always been at Liverpool and this season will be no different.
"It is good to have that kind of challenge, though. I will be fighting for my place and I am sure the other defenders will be doing exactly the same."
Liverpool are spoilt for choice in central defence with Carragher, Skrtel and even Jack Hobbs pushing Hyypia and Agger for their places.
As the season pans out – it will be interesting to see which pairing becomes the preferred choice?