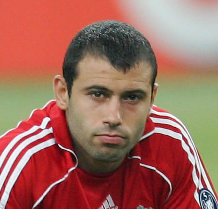 Liverpool look set to tie up the deal for Javier Mascherano in the next week, with the fee likely to be paid to the players 'owners' MSI in 4 installments.
Javier Mascherano has been speaking to the official site, stating his desire to stay with the club.
"It's not finished yet but I am hoping to stay here.  I have a lot of confidence that after the next week I will be able to say 'everything is right and I am staying here in Liverpool'.
"We now need to wait. We are very close but we need to talk again. I think everything will be OK. I've waited a long time, so I can wait one week more. The fans like me and I love the fans. They are great and that's the reason I want to stay here."
Liverpool are already believed to have paid £1.5 million to MSI for the loan of their player, and another £17 million will be the fee to release him from their grip.
Javier also went on to comment on the weekend's game against Sunderland, his 26th Liverpool appearance:
"When it was 0-0 at half-time there were no harsh words like the boss delivered last week when we were playing Havant. We knew we would have chances in the second half, so we weren't feeling so bad at half-time. We knew we could do something to win the game. It was just important we kept calm."
"The difference was that we scored early in the second half and you could see that gave us a lot of confidence. Once you've scored, you become calmer."
"We owed the fans a result. We've played badly recently but now we can have confidence again. We can go into the international break happy and then we have a big game against Chelsea. It's a difficult place to go, so the win over Sunderland was important because it means we can go to London with a lot of confidence. We can play with confidence again. We are close to fourth spot again – just one point behind. But now we have to keep this level."