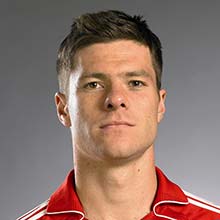 Liverpool's net spending this summer is around the £12 million mark.
Despite the £40 million war-chest promised by the American owners it appears that the £18 million for Gareth Barry is still struggling to be found, and the Americans may have to take out another of their favourite loans to land the Aston Villa man.
Steven Gerrard's thigh injury looks set to rule him out of the Standard Liege away tie and Xabi Alonso will almost certainly feature which will render him cup-tied, and his value will plummet.
Alonso is not interested in a move to a club outside of the Champions League elite, and in our opinion, this is quite right.
Many Liverpool fans will rejoice that Xabi Alonso looks more likely than ever to stay at Anfield – it is a sad situation that this looks like this is thankful to an injury to our captain, and the on-going mistruths and mismanagement of those in charge of our club.