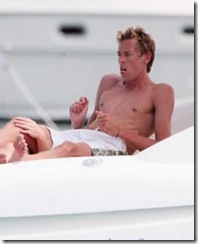 Peter Crouch has one year left on his contract and has so far refused to sign a new Liverpool FC contract. While speculation has linked him to other Premiership clubs such as Portsmouth, the player and the club appear deadlocked.
Liverpool have offered a new contract which he has not signed and if he allows his contract to run down he could join another club for nothing next summer. However the reds will be keen that either he signs a new contract soon, or the club will be forced to sell him this transfer window.
Capello has so far kept Crouch in the England squad, but Peter feels that the lack of games with Liverpool is hampering his chances of making the England first team.
Today's comments from Crouch suggest that the player himself has yet to decide on his future.
"I have spoken to Rafa. I have to play more games if I want to stay in the England set-up.
"I didn't play enough last season, that's for sure.
"I need to play more at club level to be able to play at international level. You have got to be noticed.
"I need to play more games. I didn't get enough and it's something I have to look out for, for next season."