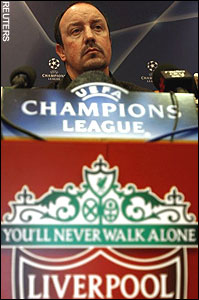 Rafa Benitez has stressed the importance of an away win at Fulham (the same weekend that Everton play Chelsea) hoping that Liverpool's 4th place position can be secured.
Mathematically, a reds victory and a blues defeat would leave the gap at 8 points with a further 9 points up for grabs. However it would then be fairly unlikely for Liverpool, who have lost only 4 times this season, to lose their final three games.
"We need now to make sure of fourth spot before we play Chelsea in the Champions League semi-finals," said Benitez. "It needs to be out of the way so that everyone can concentrate on those two matches.
"We have no control over what Everton do in their game at the end of the week (at home to Chelsea) but we would hope that a win at Fulham would give us fourth spot."
"We have not quite secured fourth place yet. We need to keep going and win our next match at Fulham.
"I am not really worried about chasing third place now, let's just prepare the players for our next game.
"We must only think of finishing in the top four. That, and progress in the Champions League, is our priority."
Rafa went on to praise the goalscoring prowess of Gerrard and Torres.
"I am pleased that Steven and Fernando have now scored 50 goals between them this season," Benitez added.
"We have now scored more goals in a league season than at any time since I have been manager, so that shows our improvement."