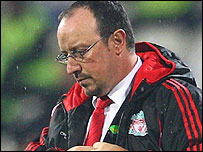 Liverpool have assumed new found confidence following the victory over Man Utd which will stand them in good stead for Tuesday's clash against Marseille in France, said Rafa Benitez.
"We could not have asked for a better boost to our confidence than a victory over the best team in England, and the European champions.
"Now we will go to Marseille in a good frame of mind. That was our best performance of the season and we now feel we can go into a Champions League game in good heart and spirit.
"We are still unbeaten, but we had not been at our best. The victory against Manchester United has changed all that.
"We have made a statement about our form in domestic competition, and the victory will not go unnoticed in Europe."
Torres was an unused sub, and Gerrard played only 22 minutes of the game against United. Benitez has yet to decide on the extent to which both players will be involved on Tuesday night.
"We did it without Torres and Gerrard, and we will have to wait and see how they are for Europe.
"We have a few training sessions now before the game in France, and both of them have been improving all the time."