Rafa defended his managerial credentials in front of an insatiable media scrum ahead of today's massive European clash with Inter Milan at Anfield.
Benitez was continuously asked whether defeat would end his Anfield tenure to which he replied: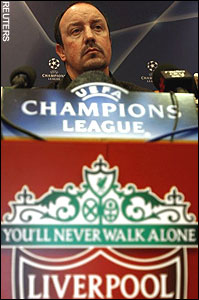 "I am surprised I am being asked a question about winning the Champions League to save my job.
"How many managers have won the Champions League once? Tell me? How many have got into the final twice in three years or won it twice? Think about the top managers in the Premier League and their record."
"When I arrived here it was 21 years without winning the Champions League and 15 years without winning the Premier League.
"Why was that? But we are improving now and we have reached seven finals in three years, although the club still needs to improve."
"But I am sure I can win more trophies for this club because my commitment is 100 per cent and I have a very clear idea of what is needed in the future.
"We need to change things and I have the confidence to do that."