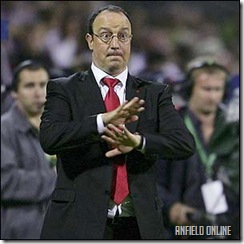 Whilst in Spain Benitez wrestled the Spanish La Liga away from Barcelona and Real Madrid and in to the hands of his Valencia side. And now Rafa admits that bringing the title back to Anfield would eclipse Liverpool's historic 5th Champions League win in Istanbul in his first season in charge.
Benitez was asked if winning the title for Liverpool will be a bigger achievement than that of Valencia 6 seasons ago.
"Yes, clearly. It is more difficult here than in Spain because the top sides spend big, big money.
"We will try to do our best and the key for me is to not talk about the title. The key is to be near the top, to be contenders. If we stay close then I think we are capable of doing it."
"It is an option, for sure. We know our weaknesses and our strengths. We know where we need to improve, so we'll try to build a new team looking at these things."
When Hicks and Gillett refinanced the club in to £350 million of debt they had suggested that around £40 million of this would be handed to Benitez in the summer – however already it appears that the transfer budget looks nearer £15 million meaning Rafa must sell some players to give himself a fighting fund.
Despite this Benitez remained optimistic in the manner the reds ended the season.
"We showed character at the end and that's really important. We showed that in difficult times we can be good and win games.
"As a manager, it was also important for me to see how the people around the team reacted to everything.
"When you talk about a winning mentality and winning trophies, you need to see the character of your people. The season was very good in terms of knowing the people.
"We have analysed a lot of things. For example, we have conceded a lot of goals from set pieces. We need to understand why because the season before we conceded six, now it's 16, yet we're doing more or less the same things. We can improve in this area.
"We also need to keep the team scoring in open play while at the same time improving a little bit in defence. We have been really good in defence for three of four years, but I think we need to improve a little bit if we want to be at the top of the table."
A full interview with Benitez will be aired on LFC.TV today.