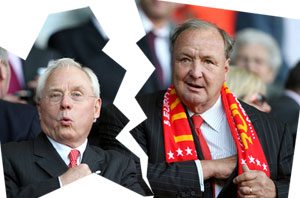 Kop Holdings, the debt laden company set up by Hicks and Gillett which effectively owns Liverpool Football Club, has published details of its accounts for the first seven months of the new American regime.
The figures which only go from December 06 (takeover date) to July 2007 (nearly one year ago) make disturbing reading.
The two owners themselves cost Liverpool FC a staggering £1.5 million in travel expenses and legal costs (you don't expect them to pay for those flights themselves do you?!) Liverpool had to shell out another whopping £10.3 million on the failed first stadium design.
Of the £1.5 million, around £1.15 million was spent by Gillett, with the other £300,000 spent by Tom Hicks.
In the year to July 2007, a year you may recall that saw Liverpool participate in the Champions League final, the club made an astonishing LOSS of £32.3 million before tax.
Nearly 18 months have passed and the stadium construction that the Americans promised to begin 'within six weeks' is still waiting.
Liverpool will now have to find £30 million a year to pay back interest on the huge loan that the Americans have taken out to try and make their money out of the club.
Liverpool FC is being bled dry by two men failing to act as 'custodians' of the club.
The disgrace continues.