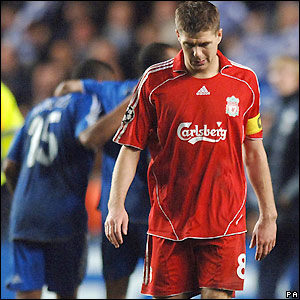 Robbie Keane keeps his place in the Liverpool team despite injury concerns and plays against Chelsea.
Kick off is 1.30pm down at Stamford Bridge. Coverage is live on Sky Sports 1. Stream information is in the forum.
Confirmed Team:
Reina, Arbeloa, Aurelio, Carragher, Agger, Mascherano, Alonso, Gerrard, Keane, Riera, Kuyt.
Subs: Cavalieri, Hyypia, Babel, Lucas, Pennant, Benayoun, Dossena.
Live match updates and discussion is here