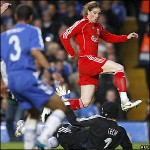 Reports from Spain suggest that Chelsea have made an initial bid of around £39 million (50 million euros) for Liverpool striker Fernando Torres.
The talismanic Liverpool striker has scored 33 goals in his debut season for the reds, 24 coming in the Premiership.
The reports from Radio Marca in Spain (who yesterday said that Alonso had signed a pre-contract agreement with Real Madrid) suggest that Roman Abramovich has identified the Spaniard as his number one target.  The report has not been carried by the Marca newspaper which has a different editorial team.
While Liverpool fans, and no doubt Benitez, would categorically laugh off any bid from one of the clubs arch rivals, with the two clowns currently in charge of Liverpool – you never know.