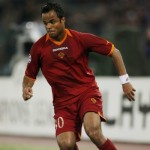 Rafa Benitez is believed to be back in the hunt for the Brazilian winger Amantino Mancini.
Liverpool were keen on securing the player's services last summer but had the door firmly shut in their faces by the Roma of Serie A.
The player is expected to turn down an offer of a new contract, and FIFA rules now allow a player to 'buy themselves out' of the last year of their contract.
"I am coming out of an unlucky spell and I need to feel important again," Mancini told the Mirror. "I won't speak about my contract until the end of the season."
The remaining 12 months of his contract could cost about £4 million, while his valuation is around £10 million.
The player has moved from right back to an attacking right winger in his career to date.  The 27 year old has played for Brazil on 12 occasions.