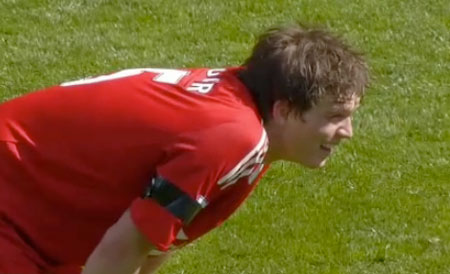 While the first eleven were putting in a distinctly below par performance in Florence last night, Liverpool's reserves paid a visit to the City of Manchester stadium to defeat Man City's reserves by 2 goals to nil.
Daniel Agger was left at home to take part in the game, as he makes his way back from surgery on a back injury.
He put in an impressive 68 minute shift for the reds as goals from David N'gog and Steve Irwin gave the reserves a good morale booster.
On a sour note impressive youngster Victor Palsson was sent off after receiving two yellow cards.
And Liverpool's Swiss right back Philipp Degen was withdrawn after 45 minutes after complaining of 'feeling ill'.  The only positive thing we have to say about the Swiss right back is that he was brought to Anfield on a free transfer.   A string of disappointing appearances have ensued.  Given a chance last week for the Leeds Carling Cup game, Liverpool fans watched on as even Jamie Carragher told him to get up and stop acting like he had been shot.
Degen not only looks uninterested in playing for Liverpool at any level, but doesn't seem to have anywhere near the physical attributes to play football in England.  At reserve level all he is doing is getting in the way of potential talent that may emerge.  In our view – he should be the first out of the door in January.
The reds reserve coach John McMahon said after the game:
"It was a good win for us and Daniel did really well and it was great to see him back. He was committed, he made some good challenges and he helped the young lads around him. He enjoyed himself and was pleased to be back.

"David scored again which is another plus for us and Stevie's finish was excellent.

"We could have scored a lot more goals in the end and David Amoo and Alex Kacaniklic had good chances. It was also great to see Zsolt Poloskei make his debut. He has been out injured for 15 months but it was great to see him on the pitch and he has worked so hard."