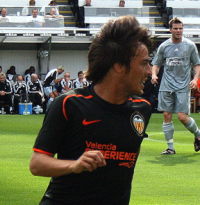 The media have gone in to overdrive in recent days – you would think they had already spent £25 million of Liverpool's money on Valencia's David Silva, but the reds boss insists that the player is moving down in the list of transfer targets.
Benitez admitted the reds were interested but it seems the reds do not appear to want to break our record transfer fee for the player.
"It is true that we were asking about the situation with him [Silva].
"But we are not happy with the situation now and he will not be a target for us."
The 23 year old signed a 7 year contract with Valencia in July 2007.