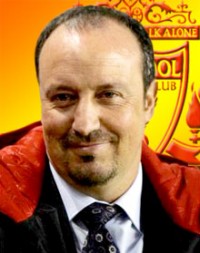 Ahead of tonight's opening UEFA Champions League clash against Debrecen of Hungary, Rafa Benitez has used his press conference to remind Liverpool supporters that he is in tune with our thinking.
Speaking to the press Rafa said:
"The Premier League is the priority for the fans. But the Champions League is massive, and we will not forget the domestic cups because this club are expected to do well in everything.

"It is always important to approach every competition to win it. But in a top side like Liverpool, the priority for the fans has to be the Premier League. Then the Champions League, the FA Cup and the Carling Cup. If you wanted an order, that is probably it. But I am greedy, I want to win the Premier League and the Champions League."
Rafa also confirmed Mascherano has returned to fitness and briefly discussed tonight's opponents, Debrecen.
"We did not know too much (about Debrecen) that is obvious but we have been working hard, sending scouts to watch them and we have a lot of information now. They have a very good striker with pace and a second striker with good ability. The wingers and the full-backs join the attack really well and the midfield have a lot of energy. We will have to see what they are like against a top side like Liverpool to know what their real level is.