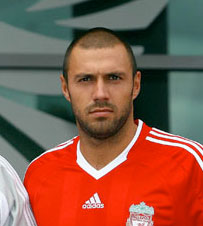 Andrea Dossena who arrived at Liverpool last summer for £7 million has handed in a transfer request according to sources.
The Italian international, who was bought as a left back, had a torrid time and failed to deal with the pace of the Premier League.  Benitez eventually found a bit part role for him in midfield on occasion, but he joins Robbie Keane as a major disappointment from last summer's signings.
He made just 12 starts in the league, and both Aurelio and Insua ended the season ahead of him in the pecking order.
Speaking to the Italian media, Dossena said:
"Before coming back to Italy I talked to Benitez and explained to him my doubts.

"I told him I wanted to leave. He is an exceptional person and understood my problem.

"He told me that if they receive an offer that satisfies both the club and me, he will take it into consideration and try to facilitate my transfer.

"I would run to Juve. They showed interest in me last year, but then Liverpool stepped in and wrapped things up in less than an hour.

"Of course I would accept an offer. You're talking about one of the biggest clubs in Europe."
Dossena was likely to be shipped out by the manager in any case this summer.
All that is left for us to say is thank god.  Thanks for your goal against United at Old Trafford but apart from that….