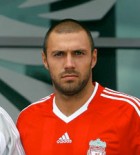 As Liverpool prepare to take on Fiorentina in the second game of Group E in the Champions League, Liverpool's (occasional) left back Andrea Dossena has warned his countrymen that they should be very worried about facing an on form Liverpool.
Speaking to Italian sports newspaper La Gazzetta dello Sport Doss said:
"You should be frightened by the 6-1 win over Hull, because our team concede very little.

"Our coach Benitez is primarily focused on this concept. But this does not mean Liverpool only defend. On the contrary, we are lethal on the counter. And I doubt Fiorentina will manage to complete a counterattack – we rarely allow it.

"I don't know what system Benitez will employ, but he often uses the 4-3-3. Every game has its own course, but if it's at a standstill, it's usually those two phenomenons, Gerrard and Torres, who take care of it."
Mighty strong words from Andy!
Ironically as Liverpool head to Italy, both Italians are on the Anfield treatment table. Alberto Aquilani is definitely out and Dossena is rated 50/50 to be involved in the squad.