Steven Gerrard's court case today closed with the player being found not guilty of affray in an incident involving a part-time DJ at a bar in Southport in December 2008.
The player walks free after the court agreed he was acting in self defence.
The jury of 7 women and 5 men took only 67 minutes to reach their verdict at the crown court.
Steven Gerrard may now take part in tonight's Liverpool XI friendly at Tranmere.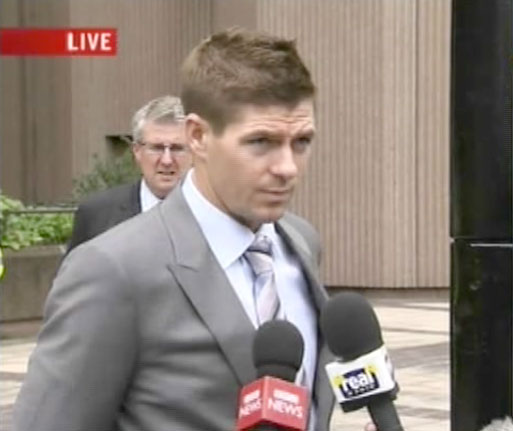 Steven Gerrard gave a brief statement outside the court
'I'm glad to put this case behind me and to get back to concentrating on my football.

I'd like to thank my legal team, my family and friends and the support of Liverpool Football Club."
The judge appeared to agree with the verdict in his summing up:
"The verdict is a credible verdict on the full facts of this case, and you walk away from this court with your reputation intact.

"You did not start the violence, it was started by the violent elbowing of Marcus McGee in the face by one of your friends John Doran," he added.

"At all times you insisted that you only ever acted in what you believed was reasonable self-defence to what you understandably, albeit you accept mistakenly, believed was an attempted attack upon you by Marcus McGee.

"What at first sight to the casual observer may seem to have been a clear-cut case against you of unlawful violence, has been nowhere near as clear-cut upon careful analysis of the evidence."
» Join in the debate on the Steven Gerrard court case here