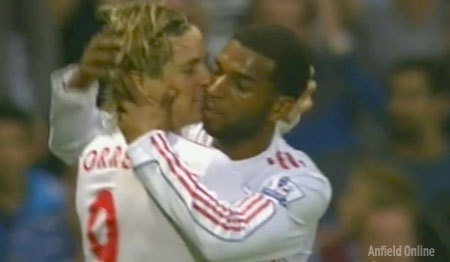 He wanted to go to Ajax, he wanted to stay and fight for his place.
Then he wanted to go back to Ajax on loan, but now he wants to stay (again).
Babel offered a bit more enterprise to Liverpool when he replaced Dirk Kuyt on Liverpool's right wing on Saturday, and sent over the fine cross that Torres headed home to take all three points down in London this weekend.
As reported in the Liverpool Echo, Ryan Babel was delighted with his first involvement in a Liverpool league game since the Aston Villa defeat. He was left out of the 18 man squad for the following game against Bolton.
"It was great to be out there and I'm really pleased I was able to help us get a crucial three points.

"Before I came on the manager said I needed to bring some energy to the game and that I needed to run at them.

"I enjoyed it and that will give me some confidence. Now I hope to carry on like this.

"If I keep working hard then hopefully I can get some more minutes and in the end get a place back in the starting line-up."
Babel had been angry after being left out against Bolton, and seemed fearful of his chances to make the Dutch side for the World Cup. He even went as far as accusing Rafa of 'breaking promises' that had been made to him.
But Babel said,
"I didn't say any of those things.

"I did an interview in Holland and I don't know who in England got hold of it but it was the worst translation I have ever seen.

"The fact is I'm very happy here and I don't want to leave to go anywhere.

"Yes, there is a lot of competition for places at Liverpool but that's the same at every top club.

"It was like that when I was at Ajax and that isn't a problem for me. I didn't accuse the manager of anything.

"I heard about what was being reported when I was away with Holland.

"When I got back to Liverpool I went straight to the manager and told him it wasn't true.

"He accepted that and there is no problem. Now I just want to concentrate on playing."
So everything is all nice and happy back on the good ship Babel.  Well, at least till next time…