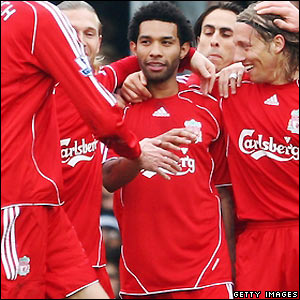 According to the Liverpool Echo, the reds have been in discussion with Sky Andrews, Pennant's agent, about adding an extra year on to his Liverpool FC contract.
Despite the plethora of transfer speculation, the player has so far remained at Anfield and with his current contract due to expire this summer could leave for nothing in the summer – handing the player a lucrative signing on fee with the club of his choice and Liverpool with nothing.
However, it is our understanding that there is a little bit more to this than meets the eye.
Even though Pennant has made only 4 reds appearances this season, his contract is widely believed to contain a clause stipulating that an automatic year contract extension will be added if the player makes more than 13 appearances in this current season.  Indeed his arrival in the summer of 2006 was with the signing of a 4 year contract.  In the normal circumstances of him playing the required number of games this would therefore see his contract not end until 2010.
Pennant therefore has a number of options.
He can either move during this January transfer window.
He can sign a one year contract extension.
Or he can run the risk of the reds automatically triggering a one year contract extension by involving him in a number of games over the rest of the season (even from the bench).
Will he stay or will he go?