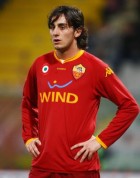 Rafa Benitez is likely to leave Alberto Aquilani on the sidelines until the end of October as the player continues to step up his training at Melwood.
The Italian midfielder has been beset with injuries in the last 2 years – some of the blame the player believes lay with Roma's constant change in medical personnel.
Rafa Benitez has been pleased with the players progress over the last fortnight but is likely to leave his return until after the clash with Manchester United on the 25th October.
Benitez said to the Liverpool Echo:
"I have been speaking to the doctors and things are going well with him.

"Alberto is progressing all the time. It could be two to three weeks before he is back.

"But we need to use caution. If it is two weeks everyone will say 'that is fantastic' but if it is three, everyone will say it is not a problem. I think that we have to be careful.

"We will take it one step at a time and we have the international break to look forward to now. That will be good for him, as he will have some more time (to recover without missing any games)."

"He is running and swimming – I think he will have the record in the swimming pool by the end of his programme – and he is working in the gym.

"He is doing almost everything and he is doing some things with the team. The only thing he is not doing is kick a ball – not yet anyway."
The reds take on Arsenal in the League Cup 4th Round on the 28th October at the Emirates Stadium.