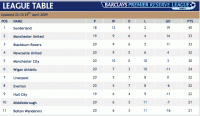 Not for the first time this season Liverpool handed Newcastle a 5-1 drubbing, but this time it was the reserves in the final game of the season.
By no stretch of the imagination has the season been a great one for Liverpool who won the title last season.  Kristzian Nemeth was absent from this game, raising speculation amongst Liverpool fans that he could be rewarded with a place on the bench against the other Newcastle in Sunday's Premier League fixture.
David N'Gog took his place in the team and had a great game as he continues to adapt well to the English game (he is Liverpool's third most prolific goalscorer this season).
Mikel San Jose scored the first with his head after a Gerard Bruna cross, then David N'Gog added a well deserved second after showing some blistering pace to leave the Newcastle defence in his wake.
Bruna was at the heart of the next two moves – his first a free kick that smashed against the woodwork before minutes later his cross was put in to the net by Damien Plessis.
In the second half Pacheco fired in a free kick beauty of his own.  Newcastle scored a goal from a scramble in the penalty box, before Pacheco made it 5 for the reds just before the final whistle.
While the results haven't been as good as hoped – a number of the reds youth players are looking like extremely bright prospects for future years.  The reserves do have some silverware to show after winning the Senior Cup earlier this week outright for the 33rd time in the club's history.