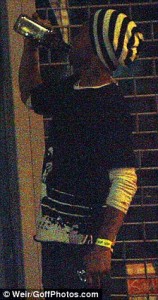 Jermaine Pennant, still technically a Liverpool player, has stabbed the Liverpool boss in the back only hours in to his loan move to Portsmouth.
The player, who clearly thinks very highly of himself is baffled as to why Benitez doesn't play him when so many sides want him, and claims many Liverpool players don't understand him.  The player, lest we forget, is still on Liverpool's books.
Pennant, who wasn't holding a bottle of Jack Daniels during the interview, said:
"I felt like my career was rotting away at Liverpool.

"I found it strange that I had been linked with a move to both Real Madrid and AC Milan, but couldn't even get on the Liverpool bench.
Not that strange Jermaine. Neither Real Madrid or AC Milan are title contenders. And if they were so interested – why are you at Portsmouth?
"Some people were asking me why I was not getting a sniff, even on the bench. But Rafa was the manager, and had his team, so I suppose I could not have a lot of argument.
Who was asking. Your mum? Your dad? The fella at the local offy?

"I don't know what it is between him and me really, but I have to say half the players at Liverpool can't seem to work him out."
Let me guess. Is this the half of the team who don't play much?
"Rafa didn't speak to me very much. I think the last time was in 2006… only joking,"

"Seriously, though, he hardly ever spoke to me apart from saying, 'Good morning, how are you?' and I sensed I might not have a future at the club.

"I was training on my own on a Saturday when the rest of the boys were playing and you can only put up with that for a certain amount of time before you have to decide what to do.
But only last week you were going to 'fight for your place at Liverpool and didn't want to go to Portsmouth'.
"I don't know if foreign managers don't like the mentality of English players and the way we work.

"Peter Crouch was moved on, and now I have. You can't really knock Benitez because he has won the Champions League and a load of other trophies, but I wasn't part of his plans and it will be nice to be appreciated again."
Here we go, poor talented English player blaming it all on foreign players. You weren't good enough Jermaine – face it.
"Tony is just the same as when we were together at Arsenal, that's the great thing about him. He is just like one of the players, and it's easy to forget he's the gaffer."
Yes. Seems to be working well. Congratulations on losing 2-0 at home to league side Swansea on your debut.
"I've come here to Portsmouth to do a job for them and when my contract is finished in July then the world's my oyster. I don't think Liverpool will be watching or coming back for me."
Anyone else reckon we should cancel the loan agreement and let Jermaine get the rest of the players boots really really shiny for the second half of the season?