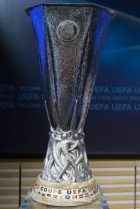 Liverpool moved in to the last 16 earlier tonight.
Here are the rest of the final results from this round. (Teams advancing are in bold)
Last 32 Results
Anderlecht 4-0 Athletic Bilbao (agg 5-1)
Benfica 4-0 Hertha Berlin (agg 5-1)
Fenerbahce 1-1 Lille (agg 2-3)
Galatasaray 1-2 Atletico Madrid (agg 2-3)
Hapoel Tel-Aviv 0-0 Rubin Kazan (agg 0-3)
Juventus 0-0 Ajax (agg 2-1)
Marseille 3-1 FC Copenhagen (agg 6-2)
PSV 3-2 Hamburg (agg 3-3)
Roma 2-3 Panathinaikos (agg 4-6)
S. Donetsk 1-1 Fulham (agg 2-3)
Sporting 3-0 Everton (agg 4-2)
SV Salzburg 0-0 Standard Liege (agg 2-3)
Unirea Urziceni 1-3 Liverpool (agg 1-4)
Valencia 3-0 Club Brugge (agg 3-1)
Werder Bremen 4-1 FC Twente (agg 4-2)
Wolfsburg 4-1 Villarreal (agg 6-3)

And the fixtures for the next round are as follows. Teams first will play the first leg at home.
Next Round – Last 16
Valencia v Werder Bremen
Juventus v Fulham
Lille v Liverpool
Panathiniakos v Standard Liege
Benfica v Marseille
Atletico Madrid v Sporting Lisbon
Rubin Kazan v Wolfsburg
Hamburg v Anderlecht
1st Leg ties to be played on the 11th March, 2nd Leg a week later on the 18th March.