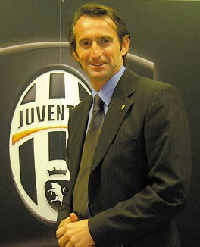 According to the Italian media, Juventus president Jean-Claude Blanc has flown in to Liverpool in order to attempt to prise the Liverpool boss away from Anfield.
Benitez was very coy in his post match interview in mid-week when asked, on an opportunity when he normally would have brushed off the debate.
Suggestions have been rife that Benitez will move to Juventus in the summer, after failing to receive any assurances about player investment from the Liverpool board. For the fourth successive transfer window Liverpool's net spend in the transfer window looks set to be negative as the club continue to hoard money to pay for enormous debts.
The Juve president is convinced the current malaise will ensure he can bring in Benitez now rather than wait until the summer.
Momo Sissoko, former red and now at Juventus, has also entered the discussion admitting that Benitez will have a plethora of opportunities come the summer.
"Rafa is a successful coach who can get any good job in Europe. He will be asked to take many jobs in Europe."

"Rafa is a very good coach who had confidence in me. He made me proud to play for Liverpool. He made me work, work, work and made me improve.
Rafa bought Momo twice, firstly taking him to the Mestalla with Valencia before bringing him to Anfield. The player was eventually usurped by the arrival of Javier Mascherano.
"The Liverpool fans are very loyal, very kind and very passionate. Playing at Anfield was very special to me and I enjoyed playing there. Rafa has their support so that is important for him that the fans believe in him."
We believe that Rafa is considering waiting till the summer, when there is a greater chance that depending on the climax to the season – the job at Real Madrid may be vacant.