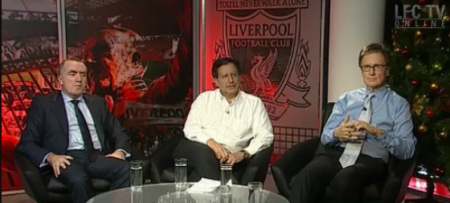 The official Liverpool channel held a Q&A session earlier tonight with the chairman Tom Werner (TW), director John W Henry (JWH) and commercial director Ian Ayre (IA).
Selected callers asked various questions of the owners, here are a few transcripts from the Q&A session:
JWH: (In Boston) We have been able to go toe to toe with (New York Yankees). We hope to be able to do the same here.
Are you here for the long term?
JWH: We are. I think that was a big question when we came in to Boston. We don't see this as a short term opportunity. This is a very long term opportunity for us. This is an opportunity for us to return the club to where it was 10,20 years ago. And should we ask the Chairman about the manager?
TW: We feel like we just got here. Roy got here shortly before us. You can see what Roy said is that nobody, least of all Roy, was happy about our performance last weekend. We all know we have to perform better, especially on the road. I heard a statistic though that under Rafa we won only one game in 2010 under his tenure…
JWH: …You mean on the road. In the last half. We only won 1 out of our last 9.
TW: Right. We believe in what Roy is doing and we certainly feel like the performance has to improve. And he would be the first to say that.
The following question concerned the stadium – the caller suggesting that he would prefer redevelopment of Anfield.
TW: I think that we agree that it is a cathedral. One of the similarities we found when we came in was with Fenway Park, which is over 100 years old, and Anfield. It's a special place to watch a match.  Our heart would be to try to do… We certainly feel the need to do something. As John said, our intention is to increase our revenue so that we can put the best possible squad together. We're hard at it. We've had a lot of meetings. We are moving forward with various options. It's too early to go in one direction or another whether to build a new stadium or refurbish Anfield.  But we know that we need to do something. And I can just say as a fan, the excitement that we feel at Anfield is so palpable – the intensity, the spirit, it's one of the great sporting experiences that we've ever had.
JWH: There's not just the history but there is an ambience here.  And I do think it would be a shame.  I think it will be an asset of the club for the long term to be at Anfield. But we need to do what is in the best long term interests of the club. But we do appreciate what we have at Anfield.
The caller then suggested that Roy Hodgson's CV alone proves he should never have been given the job.
The host then reminded the caller that we had already talked about Roy Hodgson, and that the present owners did not give him the job.
On player investment in January:
JWH: I don't have an answer.  What I can tell you is that we are actively looking at it and studying it.  We don't quite know what the situation will be in January and I've been told that a lot of things don't happen until the end of January. It's our first transfer window. It's something we've been studying day and night to try to understand. There is no doubt about it. Just in general. The play that has gone on this season, and I guess from the last half of last season, is unacceptable for Liverpool to accomplish what it wants to accomplish – for us to accomplish what we want to accomplish. We're in sync with the fans in what it's going to take and what we need for this club going forward.
TW: We're perfectly prepared to take risks. But what we want to do is take risks that improve the club long term.  To do something, that sometimes in the past the club have made decisions which were focussed on a nice PR bounce, or something that would work short-term and we're interested in long term and were interested in value.
JWH: The one place we may not be in sync with supporters is that when I was a fan of a club growing up and through my adult life till about 12/13 years ago. I didn't worry so much about the long term aspects.  I think for supporters you're really interested in what happened last Sunday, this Sunday this season.  When you're running a sports franchise it's important to take the long term aspect. And you have to have a long term plan/philosophy. It doesn't take a lot of time for a club to go downhill, but it can sometimes take a long time to rebuild a club.
Over the past two years there have been some short term decisions that have really hurt. It's time for us to stop that and to start making long term decisions that will put in is a position not just this year but in years forward to be succesful.
Do the club still exist to win trophies?
TW: That is the mantra. We have been watching many of the great matches in the past and one of the adjectives I would use for the way Liverpool played was relentless.  When they were ahead 3-0 they would score a 4th. We need to bring that back.  We're also impatient as fans.  We are in no way saying this season is anything else except ours to recapture.  If I'm encouraged about one thing in the play in the Premier League it's that teams are a bit topsy turvy and there is no runaway team.
IA: (Winning trophies). It's what every fan buys their ticket for.  It's the big day out at Wembley or Rome or wherever. It's all about winning.  Hopefully it's not too long.  Last trophy in 2006 – we're overdue another one very soon.  It's what players want as well. They don't play to come 2nd or 3rd or 4th.  We have to be first be it the league or the cup. That's what we all want.
A final caller was squeezed in who suggested he believed in Roy Hodgson, what he is trying to do and with the right backing we can move this club forward. People should remember that the team now is not Roy Hodgson's team.  He needs time to settle in.  Everyone seems quite negative at the minute. But there is good things to come.
They then moved to an ad break.
JWH: (On Dalglish's involvement). No doubt about it he needs a much more substantive role.  He is key to this franchise for the long term.
TW: We had a lovely dinner with Kenny and his wife and his son Paul. I was saying to Ian it was an honour to be with him.  I understood about half of what he said.  We know what he means to this club.  It can only be helpful.  His spirit, his tradition and his heart would be well served if we could mirror that.
How close are you to appointing a CEO?
JWH: That's a good question. We're certainly working on it. Diligently. I wouldn't say it was close.  We have had a number of excellent candidates step forward.  (To Tom) Do you have anything you want to say on that?
TW: No.
On a groundshare?
JWH: If the fans don't want it then it's difficult for the club to do anything about it. It might make the most sense if you're building a new stadium. But if the fans don't want it – it's a non-starter.
On the length of a business plan?
JWH: We're looking at a 3-5 year rebuilding project. Where we are this point isn't acceptable. When I say rebuilding I mean for the top of the table. That's going to be difficult for this year and a real challenge for next year.  But in 3-5 years. It wouldn't have made sense for us to get involved if we didn't think we could win the Premier League.  That is our ultimate goal.  There hasn't been a Premier League here since it was created. That is our largest goal. I don't know if it should be a larger goal than winning Europe but those are our two main goals.  We have to be in a position within 3 years to be able to do that.
The next caller asked if they were aware of the poor sports journalism in print and TV in the UK.  He said Hodgson gets an easy ride because they have been championing him for years as an English manager that they wanted to see him at a top club. And because he is the LMA Manager of the Year even though he has only won 2 away games in the last 2 years.  Is there any chance of them funding a much more statistically driven football programme about our club and better match commentary, as they do in America?
Somehow they managed to instead answer the question referring to statistics in player recruitment and the bringing in of Damien Comolli.
TW: Any time we can find something that is objective, can be helpful to the people in football operations. That will be a useful tool.  We found it useful in baseball. We don't think the analogy is entirely comparable.  We would like to use analysis to look at value as opposed to the naked eye at a match or two.
Just a quick thing about the journalists.  The interest in Liverpool is shown by the newspaper coverage.  Oscar Wilde once said the only thing worse than people saying something behind your back is not saying something.  That there is so much interest in this sport, of course there will be articles that are better than others.  It's a good thing for the sport that so much is written about it.
JWH: There is so much coverage.  Every day I keep reading all the potential players we are going to sell or sign.  To the point I will call Damien or Roy and ask is there any truth in this.  It is incredible how much of that goes on.
Another caller highlighted the 'terrible mistake' made in the summer appointing Roy Hodgson.  He mentioned NESV's understanding of stats and highlighted Hodgson's 13 away league victories in his career in England and wondered why we were struggling away from home.  And also that it would be a travesty if Reina and Torres left because they were disillusioned.
TW: We understand where the caller is coming from.  We saw Roy today, and we saw the tape of Roy.  And we do expect immediate improvement.  Our intention is to add to the squad and improve the quality of the match.  I hear where the caller is coming from – we are sympathetic to it.  We have to attack this with our reasoned judgement. Not do anything precipitous that is based on any one result.
JWH: We have had great success in trying to keep the organisation on the same page. We're on the same page.  I thought we were making significant progress.  Even at Tottenham I thought we should have won that game.  And if we had played like that for the rest of the season we would win.  There is no doubt about it – the play that has gone on this season has been unacceptable.  The results have been unacceptable.  It's down to us to take responsibility for that.
How do we attract big name players to Liverpool?
JWH: My experience is that players want to come here.  I've heard from agents and various people throughout the league that Liverpool is a very attractive place for players to come to.  I don't think we'll have any problems attracting players here.
A further caller again mentioned Roy Hodgson.  Suggesting that he was out of his depth.  That he builds up the opposition before the games.  He reminded the owners that we won 5-1 at Newcastle the last time we played them.  The caller had originally called in on an unrelated question so his thoughts were not put to the owners.
Another caller asked if they were aware of the size of the task, relating to spending power of other clubs, and if it would be a problem?
JWH: I don't think so.  I think when we went through the due diligence process that unfolded over about a months time.  As we went through it the more we looked, the more we began to see that tremendous sums had been spent by Chelsea and Man City.  We were also aware of the financial fair play rules coming in.  We were very aware.  Some fans may not be aware of the size of the payroll here.  We already have significant payroll.  One of the problems we uncovered is that we have a significant payroll and we will for the next year and the next year.  We have some players who some might argue are overpaid.   It was one of the main decisions about whether we would be able to purchase the club.  Because there was a chance for the next couple of years that the club could have been uncompetitive.
So we weren't surprised.
In the final analysis we felt that it was incumbent upon us to raise revenues, to invest what it took.   You can't just throw money at the problem. You have to be smart. If you're smart and throw money at it you can be competitive.
—
Did you watch the Q&A?  What were your opinions on the answers and the debate?