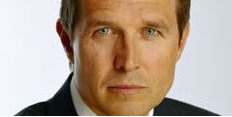 Liverpool have accepted Christian Purslow's resignation as Managing Director leaving Roy Hodgson even more isolated at Anfield.
The managing director, brought in by Tom Hicks and George Gillett to replace Rick Parry in 2009, was made a director in April this year by the Royal Bank of Scotland.
NESV look set to bring in their own footballing administrator to oversee the club.
Purslow will be added to the list of non-executive Directors and be on hand should NESV require his input.
Commercial Director Ian Ayre also offered his resignation to the new board, but they assured him they see him as having a future at Liverpool Football Club.  Ian Ayre, despite his initial support for Tom Hicks, was seen as one of the main drivers of Liverpool's improvement in increasing off the field revenue.