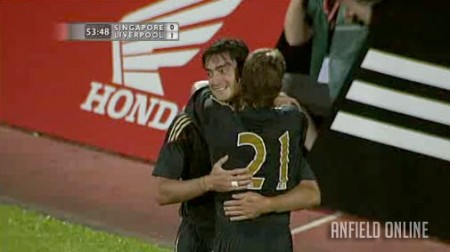 Ryan Babel's outbursts have long been noted by us here on Anfield Online.  Now it appears that Albert Riera has decided to utilise a similar strategy to force his way back in to the team.
With the arrival of Maxi Rodriguez, the re-introduction of Babel and returns from injury of Yossi Benayoun and even Nabil El Zhar, Albert Riera has found himself falling down the pecking order after disappointing performances this season.
His answer seems to have been to launch a tirade against Rafa to Spain's Radio Marca.
With an important European clash coming up – Albert's comments were poorly timed.
"When the coach doesn't say anything to you and you are in good shape with no physical problems and training well, you have no choice but to think the fact you are not playing is personal.

"The team is playing badly and needs changes. If I'm doing something badly and you're my boss and you trust in me, then you would tell me what I am doing wrong and what I have to do to play.

"The fact that Benitez has not said anything is what most hurts. In the two years I have been here he has never managed a situation with a player by talking to him. He thinks he is the boss and everyone else is deaf.

"The dialogue with the players is practically non-existent. There is a lack of tact. Fernando Torres and Pepe Reina encourage me. They tell me that they know that if I play, I will do well.

"But a week goes by and then another and another and nothing has been achieved. There shouldn't be a lack of communication either, because I speak Spanish and my English isn't bad either."
Riera has never been a nailed on member of the Spanish team and is clearly got his two big eyes on the World Cup and suggests that two Russian clubs are interested.
"Right now the only market open is the Russian one. I have offers from two clubs and, given my situation, that has made me reflect a lot… My objective is to go to the World Cup and for that to happen I have to play."
Albert got one final dig in regarding a potentially vacant managers role at Real Madrid this summer.
"At Madrid they ask you to win and play lovely football. We [Liverpool] are effective, sure, but we don't play brilliant football."