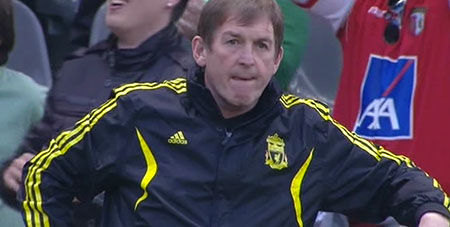 Kenny Dalglish reflected on LFC's 3-0 defeat at Galatasaray earlier tonight in a post match press conference.
"I think they looked a bit sharper than us at the start of the game. It was the same as at the weekend in that we played a lot better in the second half than we did in the first half.

"But the players worked hard and they'll benefit from the effort they put in. It won't do us any harm for the season ahead, but we've got to get ourselves a bit sharper, a bit more clued up and lively when we're not in possession of the ball."

"I think the benefit is it's another game. They looked a bit sharper than us and are maybe a wee bit ahead of us. Their season was due to start but I think it's been put back for a number of days."
The reds take on Valerenga away on Monday, before a clash with Valencia the following weekend at Anfield.
"We've just got to get ourselves street-wise on the pitch and get up to speed with our thoughts when we're not in possession of the ball. August 13 is a big day for us when the season starts, and we'd like to think this will stand us in good stead getting towards that date."

"It's pre-season. We've another game on Monday and we've got to pick another team.

"We'll have people back who weren't eligible for this game. For the young boys who played it will have been a great experience for them, and for the players who played it will be good for fitness.

"We don't want to lose a game, but we've got two games in four days and a long trip home tonight, so we had to take that into consideration when we were picking the team – and we'll also take it into consideration when we pick the team on Monday."