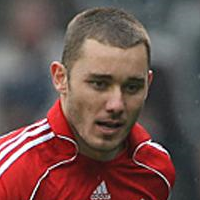 Liverpool's head of sports science, Dr Brukner, put it best when he said:
"Unfortunately his body lets him down."
Indeed it does.
Glass boned left back, Fabio Aurelio, will miss a month for the reds after he was substituted 34 minutes in to the weekend's clash against Man United.
The 31 year old who has suffered such hilarious injuries as 'playing with the kids on the beach' actually left Liverpool last summer.  Under Rafa Benitez the club were prepared to offer him a pay as you play deal – which he rejected.  However when Hodgson arrived, a decision was taken to try and bring the player back with a lucrative 2 year contract.
The player has a confirmed hamstring tear and Dr Brukner added:
"He had a minor adductor strain a few weeks before that.

"We rehabilitated him and he trained all week with no problems at all.

"He's frustrated because he was playing well on Sunday. He was looking forward to getting a run of games but it wasn't to be.
The injury is similar to Martin Kelly's, although it will be interesting to see the relative speed at which the players return.
Agger
Daniel Agger, another player who spends far too much time in the treatment room, also appears set to miss the clash against Braga on Thursday in Portugal.
Despite his enormous ability – and arguably the most technically able of the reds centre-backs, many fans will also be wondering if the Dane can ever show the kind of fitness required to be a Liverpool regular.  Agger almost quit football last year, when the strain of back injuries even saw him spend an entire flight back from a European game standing up to alleviate the pain.
As ever, we wish all of our sicknotes a very speedy recovery.  Liverpool only have another 3 games this month and only one Premier League clash, so have maximum opportunity to get over their injuries.