Tom Hicks and George Gillett latest legal case is aimed at the former directors of the club and not the club, or it's owners.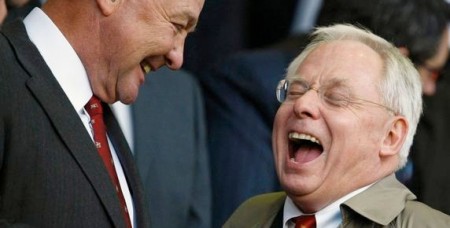 The two hated former owners had initially pledged to sue the club, the new owners, the banks etc for £1bn despite a High Court judgement insisting the sale of Liverpool Football Club was entirely legal due to the company constitution.  Tom Hicks famously referred to the sale as an 'epic swindle' despite them increasing the club's debt from around £30M to half a billion pounds in under 4 years.
Although any words they say should always be taken with a pinch of salt, the former owners have made a statement to the Liverpool Echo stating that their latest legal action is not against the club or owners Fenway Sports Group – but is against previous directors Martin Broughton and Christian Purslow, as well as the current Managing Director Ian Ayre.
The statement read:
"Tom Hicks and George Gillett are pursuing claims for damages and compensation against RBS and former directors of Kop Football (Holdings) Limited Sir Martin Broughton, Christian Purslow and Ian Ayre (current LFC chief executive).

"They are not bringing any action against the club and the club is not a party to the legal proceedings.

"A claim for £1bn was made in the past. That claim was made in legal proceedings in Texas that were discontinued last October in accordance with an Order of the (English) High Court."
Accounts were also published up to July 2010 showing the state of Kop Football Holdings, the company H&G used to own Liverpool.  At that time the company, and effectively Liverpool, were £402M in debt.  The company has not yet been wound up due to legal matters.  Kop Football still ultimately remains owned by Kop Investment LLC, a company registered in Delaware, US – where companies do not have to record their accounts.
It is estimated that Tom Hicks and George Gillett lost out to the tune of £150M from their dismal ownership of Liverpool.