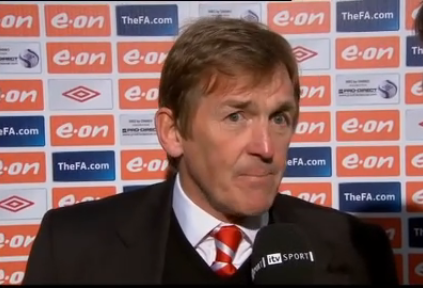 Liverpool's caretaker manager, King Kenny Dalglish, has finally been confirmed as the new Liverpool manager, having signed a 3 year deal which will take him through to the summer of 2014.
First team coach, Steve Clarke, has also signed a three year deal with the club.
Following the departure of Roy Hodgson on January 8th 2011, Kenny Dalglish returned to the hot seat to take charge of team affairs till the end of the season.
At the time many people considered that Fenway Sports Group would continue to scour the globe for a younger manager to fit in with their sporting philosophy, however Dalglish has overseen one of the most remarkable turnarounds in fortunes for the club – gaining more points than every other club in the league bar Chelsea.
Liverpool last won the league title with the former number 7 in the managerial hot-seat in 1990, with Dalglish' initial management spell lasting for just over 5 and a half years, taking in amongst numerous other trophies a total of 3 league titles.
Dalglish said:
"I'm obviously delighted to be given the opportunity.

"When we came back in January there were no promises as to what to expect, so for me it was an ideal opportunity to prove I had something to offer."
Kenny also sent a message to the fans:
"Thanks very much for sticking behind me. You can see the reward that everybody gets if we are all together. The supporters do their bit to get behind the players and the players do their bit to try and lift the fans. It's a good fusion when you get the two working together. Allied to that we have the owners who are well prepared to take the club onwards and upwards and I think we have a rosy future.

"We have kids at the Academy who are looking very promising, but at the same time we are not getting carried away. People have been making predictions about what's going to happen next year but the most important thing for us is we show the determination and the effort to put in a good show next year. Whatever happens then will happen.
Club Managing Director Ian Ayre added:
"It was an easy decision in the sense that there was never any other candidate.

"Over the last few months everybody has had a great opportunity to work together; the owners, Kenny, Damien and myself and it's there to be seen what Kenny and Steve Clarke have achieved together.

"For a long time we have needed people here who really understand what this club is and what it means to our fans and what makes it different to other clubs. Kenny knows that inside out and I think that's a key quality. He understands what matters at Liverpool and what needs to be done at Liverpool.

"I think humility is another great skill that Kenny brings. He has nothing to prove to anyone in football other than himself, but at the same time he treats everybody with the same level of respect whether it's somebody at the top or somebody at the bottom of the business. He treats everyone the same. I think you see that when you look at how he engages with players in different ways on and off the pitch, the way he engages with the fans, he just has great humility and at a football club like Liverpool that is a key strength."
Dalglish and Liverpool will be looking to cap an impressive second half of the season when they face Spurs on Sunday, with a victory ensuring European football returns to Anfield next season.