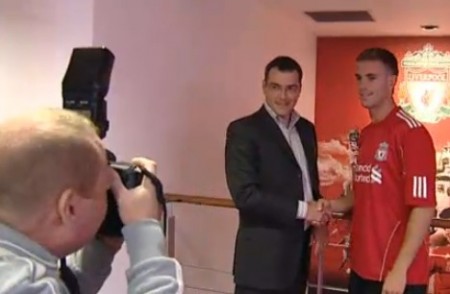 Damien Comolli took centre stage amongst yesterday's unveiling of Liverpool's first summer signing, Jordan Henderson, from Sunderland.
Liverpool are understood to have paid around £12M up front for the Sunderland man, with the final fee likely to rise to £16M based on appearances.
There had been some suggestions that this purchase was a Comolli driven one, but Dalglish proferred his blessing in a statement on the official website:
"It is fantastic for the football club to be able to attract hugely talented young footballers that have huge potential," said the boss.

"Jordan is very mature for his age.

"He is respectful and his principles and everything else on and off the pitch are exemplary.

"Not only is he a talented footballer, he's a really good person as well. He loves his football and he is very appreciative of what Sunderland have done for him."

"You know of young players before of course but we have been watching him since he came into the Sunderland first team and have been tracking him.

"We just need to go out and bring people to the football club that will raise the profile and standard of the performances that we have had since January – and I think Jordan falls into that category. People might turn around and say, 'Well you have people in there who have done really well'.

"Of course they have done well – and hopefully next year people will be saying the same thing about Jordan."
The club captain Steven Gerrard also admitted that Henderson was a good player.
"It's a really positive signing. Let's hope he is the next Steven Gerrard.

"Liverpool needs a new Steven Gerrard and it will need a new Jamie Carragher. That's what good football clubs do – they replace their best players.

"I saw Jordan at first hand for two or three days with England and he is a good player with energy."
Henderson will be part of the squad competing for England Under 21's in the UEFA European Championships. England take on Spain on Sunday night.