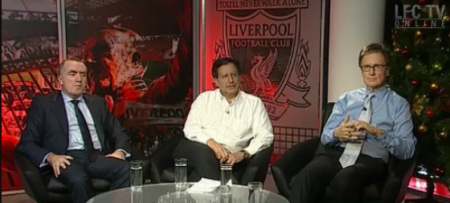 John W Henry spoke for the first time since the end of the transfer window to re-iterate his commitment to moving Liverpool FC forward.
On Dalglish's appointment as caretaker manager he said:
"It's still early, but in retrospect you could not have made, in our case it was very fortunate for us, but we could not have made a better choice.

"I know he, for a long time now, has wanted to be in this position, so it's a great thing for the club, for Kenny and for us."
He also discussed Fernando Torres' departure.
"One of things that we talked about from the very beginning was how important it was that everyone was on the same page. No player is bigger than the club.

"We expect players to want to be there. If they don't want to be part of Liverpool football club then we should do everything we can to facilitate them going elsewhere."
Although Liverpool are in consultation of a potential new stadium, there was a slight inkling that a redevelopment of Anfield, similar to that undertaken at Fenway Park, could be on the agenda – rather than a new purpose built ground on the adjacent Stanley Park.
"The Kop is unrivalled, The atmosphere, I was really surprised because we've heard so much about needing a new stadium.
"We were surprised at how beautiful Anfield was both viewing it as an empty stadium and then with the first game. It would be hard to replicate that feeling anywhere else."
The Spirit of Shankly group also revealed yesterday they had sent the owners a 12 page document containing questions and urging the owners to meet SOS a few days before Christmas.
Liverpool FC have since announced the creation of a Football Supporters 'Board' which will represent areas of Liverpool's Worldwide and local fanbase and minority groups.
John W Henry replied insisting that it was important that everyone within the club pulled in the same direction.
We want the greatest football club in history – nothing less. And we are going to do exactly that. But we will not be successful – as supporters, as owners, as players or as an organisation – if we are not all on the same page. All of us.
You can read John W Henry's response in full here, and the original letter from Spirit of Shankly is here.