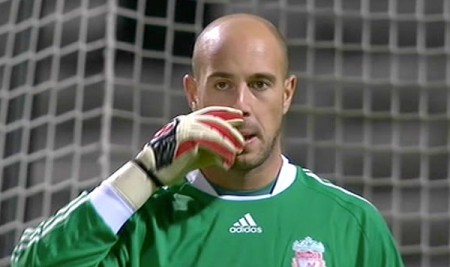 Pepe Reina has given an interview on Spanish radio which will only increase speculation around the club that he could make a summer move away from Anfield.
Speaking to Spanish radio station Onda Cero, the Liverpool shot-stopper said:
"I think it's hard for me to come back to Spain to play. I think my place is in England – and right now that is with Liverpool,.

"It's hard to see me returning to Spain. Barcelona and Madrid are the two teams you would aspire to in Spain and that's impossible.

"Van der Sar is hanging up his gloves and people say that Arsenal are looking.

"I can't do or say anything; I renewed my contract with Liverpool last year. But what a player wants, logically, is to challenge for titles.

"I would like to think that the departure of players does not mean that we are slipping.

"I think Liverpool will always be a big club but we have to be realistic and the reality is that right now we are not at the level of Manchester United, Manchester City, Chelsea or Arsenal. That's the truth.
The interviewer pointed out that Pepe had won the FA Cup with Liverpool.
"Yes, but that was a long time ago. We used to fight to be among the top teams and to be in the Champions League but sadly in the last two years that has not been the case. Obviously, I want to play in the Champions League and I want to aspire to win titles.
Pepe Reina's comments will not go down well with the Liverpool manager or board, who have been boosted in the past month with some much improved performances on the pitch.
Strong rumours were surfacing early in October that Torres and Reina had grown disillusioned at Liverpool – and with Torres departure in January, many fans fear that Reina will be the next one looking for the exit.