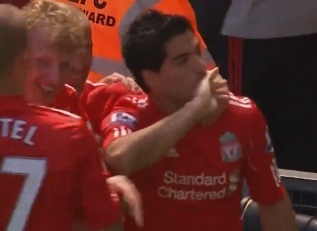 After weeks spent in the relegation zone, and with the prospect of the club sliding in to administration and suffering a 9 points deduction, the mere thought of European qualification this season was far from the minds of the majority of Liverpool fans.
But since the arrival of Kenny Dalglish as caretaker boss, Liverpool have clawed huge numbers of points back on every Premier League team bar Chelsea, and the victory over Newcastle saw the club back in to the European spots for the first time this season.
Due to a combination of cup winners, and Portsmouth's financial woes, 7th last season was good enough for the Europa League.  This year 5th looks almost certain to be the minimum target required, as Manchester City have all but cemented 4th position.
Luis Suarez, one of the club's two January signings, insists that European qualification is a key motivation for him in these final games, which would end a very promising start to his Liverpool career.
"The Europa League is our objective. When I came I wanted to help Liverpool get there but when the second half of the season started it looked really difficult.

"But we have kept winning games, we have played really well and got some important victories, and we have just been hoping that Tottenham drop points.

"There are still three games left and we have to prepare ourselves really well to make sure we get all the points we can.
Liverpool must first negotiate an exceptionally tricky game at Craven Cottage against Fulham, before a key match against Spurs at Anfield.
"Tottenham at home is going to be a great game. That will be the most important game of our season if we want to dream about going to the Europa League.

"For me the Europa League is important, the sort of competition you want to play in.

"A club like Liverpool can only think in one way. If you get into the Champions League, your objective has to be to win that.

"If you get in the Europa League, of course, your objective has to be to win that. That is what a club like this must aim for. We have to do everything we can to win as many competitions as we can."
Luis Suarez has played in 10 Liverpool games, scoring 3 times and supplying 6 assists.