Liverpool's Andy Carroll has been amongst the pick of the reds players in recent weeks, as the reds have pushed on in both domestic cup competitions.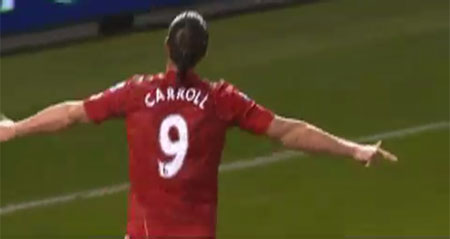 At the weekend Carroll scored one himself before teeing up Suarez to complete the rout over Brighton.  And after 12 months at the club, and the initial injury problems, struggling to cope with the huge fee Liverpool placed on his head and adapting to life at Anfield – the Geordie who recently turned 22 feels things are starting to finally go his way:
"I feel like I am doing well and have just started to get going.

"I am scoring goals and I feel like I am doing well in games now. It's all starting to come together for me.

"This is the best I've felt since I have been here, without a doubt. I feel fit and confident and I think it is showing in my performances.

"I'm getting around the pitch more and getting involved. I think it shows that I am happier and more confident. I'm just pleased that things are going right."
The weekend's match was the first time that Luis Suarez, Andy Carroll and Steven Gerrard had started a game together for Liverpool and the scoreline only reflects that this could be a very happy love triangle.
"It was great that we both (me and Luis) scored. For me it was nice to get one in front of the Kop, it was a great ball from Stewie. He picked me out and all I had to do was put it in the back of the net.

"At the end I just thought it was important to set Luis up. It was a great ball by Jose and Luis was probably in a better place than me. He was there and he just nodded it home.

"I thought the whole team played well, we gelled together and passed it well. We got the goals that we have been lacking.

"Now we've taken care of that game we can start thinking about the Cup final."

"It's a massive game and all the lads are looking forward to it. We have got such a good squad, anyone could come in and play. You have just got to work hard in training and the manager will pick the team.

"I've never been to a cup final before so it's a great feeling to get there and I'm just hoping we can win it now. We have been playing well the last couple of weeks and starting to put the performances in."