Liverpool Managing Director Ian Ayre insists that the club is making progress on stadium plans.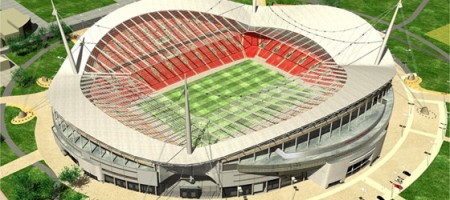 The stadium issue which has been swirling around three sets of Liverpool owners for nearly a decade remains ongoing, and is proving an increasing source of frustration to supporters who have seen a number of other clubs build and move into expanded or new stadiums in that time.
The reds have so far incurred costs of around £50M without a solitary brick being laid, more money spent on a new stadium than has been spent on improving the playing squad since 2007 (£49.6M V £47.2M).
Plans for a new stadium on the Stanley Park site are wholly dependent on finding a lucrative naming rights partner which could cover around half of the anticipated £300M cost.
Ian Ayre said:
"There is progress and we are still in dialogue on both fronts.

"We have got more dialogue going with the Anfield residents than we ever have, as with other stakeholders in and around Anfield.

"We want to explore both options to a solution and I think it's fair to say if we continue making progress in that area, it might move faster than we originally anticipated.

"I think it's also fair to say that we are already fairly well down the line with a couple of major brands who have shown significant interest in naming rights for a new stadium. Part of the problem is that people assume that because we don't make a major announcement, because we can't show any spade in the ground, that nothing's gone on and no progress has been made."

"The most important thing for us, especially under this owner, has been about certainty on the stadium.  There's been too many times when people have said 'we're doing this' and then it didn't happen.

"We are not going to make comments that we're doing something until we've got certainty.

"And that certainty quite often is in other people's hands.

"In the case of staying at Anfield that certainty is with residents in and around that area that we would need to convince. When we have that certainty we will make the announcement and move on it.

"It's only right to make announcements when you've got the right solutions. It's alright for people to say Liverpool's a big football club – 60,000 seats, why don't you just go and get on with it? But go and look at the economics of that – of a £300million build for 15,000 new seats.

"It's pretty hard to make that stack up. The work is going on and a decision will be announced when we've got certainty.
Despite Ian's comments on the possibilites of a redevelopment of Anfield, it is believed both the council and the club are more in favour of the new stadium route.