Liverpool FC have parted ways with Damien Comolli, the club's Director of Football Strategy, just days ahead of the FA Cup Semi Final and weeks ahead of the opening of the summer transfer window.
In a brief statement Comolli said:
"I am happy to move on from the club and back to France for family reasons.

"I am grateful to have been given the opportunity to work at Liverpool. I wish the club all the best for the future."
However, the decision which was described as 'mutual consent' just like the departure of Rafa Benitez, is an expression of the disappointment from owners Fenway at the clubs transfer strategy since Comollli was appointed at the end of 2010.
Tom Werner, LFC's chairman added:
"The club needs to move forward and we now have a huge game on Saturday. It is important that everyone joins us in supporting the manager and gets behind Kenny and the team and focuses on a strong finish to the season."
Liverpool have invested just over £11M on new players in each of the three transfer windows since Fenway took charge of the club.
It is unclear at this time whether a replacement will be brought in, or whether the brief of the replacement will be day to day affairs at Anfield and Melwood, or will encompass player recruitment.
Players Signed during Damien Comolli's time at LFC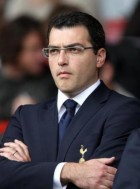 Luis Suarez £22.5M
Andy Carroll £35M
Jordan Henderson £16M
Charlie Adam £8M
Alexander Doni Free
Stewart Downing £18M
Jose Enrique £6M
Sebastian Coates £4.9M
Craig Bellamy Free
Liverpool spent £110.4M on 9 first team players and sold 12 first team players for £76.2M (a total transfer investment of £34.2 M in 3 transfer windows).