Steve Clarke has left Liverpool and is due to be unveiled as the new West Brom boss.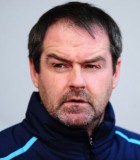 Clarke joined Liverpool shortly after Dalglish's appointment and eventually replaced Sammy Lee as Liverpool's second in command.
The 48 year old was instrumental in Liverpool's improved form in the second half of the 2010/11 season - and also had a big hand in launching Brendan Rodgers' career when he earmarked him for the job in the Chelsea youth setup in 2004.
Clarke had offered his resignation in the wake of Dalglish' signing, but it was rejected.
As well as Liverpool and Chelsea, Clarke also spent time on the staff of Newcastle and West Ham.
Rumours at the weekend centred on a link with taking up an assistant manager post at Celtic, but West Brom have moved quick to ensure he is handed his first managerial job.
We wish Steve Clarke the very best in his future career and thank him for his brief, but important, service for Liverpool Football Club.