Luis Suarez today reissued his desire to stay at Anfield, despite media speculation over his Anfield future.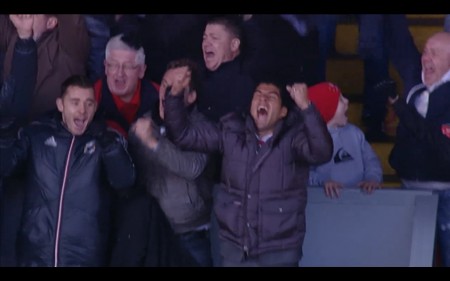 Despite the attempts in some sections of the press to stir transfer rumours, and a disappointing intervention from the Manchester United manager following a League game last month, Suarez insists his future is at Liverpool – both in an interview with the club and an interview with the El Pais media outlet in Uruguay.
Suarez's signed a 5 and half year contract when joining Liverpool which lasts till the summer of 2016.  The player said:
"I have spoken with people at the club and they know that I want to stay and that I am enjoying myself and am very happy here.

"No one at the club has told me that they want to try and sell me or that I will be leaving!

"I'm going to carry on playing my football here at Liverpool. There are a good few years left on my contract and I want to carry on enjoying myself because both my family and I feel really happy here."
In the interview with El Pais, Luis even suggested that Liverpool had discussed the potential for a contract extension.
Suarez also dedicated his goal against Stoke to Bolton's Fabrice Muamba:
"It's a very difficult moment, and I think it is very important that we show our support, whether it be a message, or any kind of dedication, so that both he and his family know that not just me but the whole of football both here in England and throughout the world are right behind him and hoping that he will recover from his current situation."
Luis Suarez' goal at the weekend was his first in a month for Liverpool – and some reward for his huge assistance in Steven Gerrard's hat-trick against Everton a few days earlier.