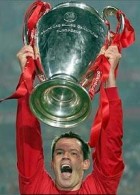 Jamie Carragher has given his professional and sensible opinion on the Luis Suarez affair.
Speaking to the Daily Mail, the Liverpool vice-captain suggested the matter needs to be put in perspective and the reds should help, not shun, one of the World's top footballers.
Carragher said:
Before you carry on reading, it is important to make this point: this is not me trying to defend the indefensible. This is an attempt to put some perspective on the Luis Suarez saga.
He went on to highlight Graeme Souness' post-match suggestion that Liverpool should punish the player by selling him.
Souness widely oversaw a player exodus at Anfield when he first arrived - which historically he himself regretted, and Carragher thinks that Souness' suggestion this time around is also wrong.
It (the bite) was wrong on all levels. You simply don't expect to see a grown man bite another grown man — that is behaviour you would associate with nursery school.

It is as if Luis is the only player to have represented Liverpool who has ever been embroiled in controversy.

That simply isn't the case.

We have had it many times before, as have every other club in the country.

I know this as I was responsible for one incident in January 2002. I threw a coin into the crowd at Highbury during an FA Cup tie against Arsenal after one had  initially been flung at me.

Souness, who was captain of Liverpool at the time, broke the jaw of Dinamo Bucharest's Lica Movila during a European Cup semi-final in 1984 when he punched him in an off-the-ball incident.

It was a serious incident but it is one which fans and some of his old team-mates speak almost nostalgically about.

Robbie Fowler had his scrapes, too. There was outrage after he celebrated a goal against  Everton in April 1999 by mimicking drug taking. A couple of months earlier he was hugely condemned when he taunted Graeme Le Saux with a homophobic gesture.

Jan Molby was sent to jail in October 1988 for three months for a drink-driving offence.

More recently, Steven Gerrard appeared in court charged with affray but was subsequently found not guilty.

Every one of the players I mention regretted what happened and Luis is the same. More importantly, the club stood by every one of them.

In my time at Liverpool, very few players have possessed an appetite to win the same as mine but Luis has got it. He trains well every day. When we get a day off, he will come in to do extra work and there is nothing arrogant or flash about him. He slots into the group without problem.

Yesterday, however, it was clear that events had taken a toll.
Jamie again reiterated that the bite was bad, and foolish but also put it into perspective.
Lucas Neill cost me six months of my career in September 2003 when he played for Blackburn. Would I have preferred to have been  bitten? Absolutely.
Luis Suarez has been fined by the club, and asked the club to donate the money to the Hillsborough Family Support Group.  His punishment from the FA is expected to be announced shortly.