Liverpool have agreed a deal of around £8.5M with Inter Milan to buy the 20 year old Brazilian midfielder.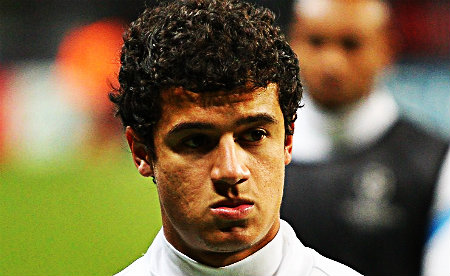 The reds need to agree personal terms with the player who is due to travel to Merseyside in the next few days - and also apply for a work permit (Coutinho only has one full international cap so far).
The reds did have two previous bids turned down of £7M and £7.5M before Southampton had a £10.2M bid accepted.  However, the player rejected the idea of a move to Southampton - even though it would have meant playing under his former manager.
Rodgers has recently spoken of an improved motivation from the clubs owners after the summer's transfer debacle.
"We were maybe a little bit short in the summer, but we all agreed this was a month that we would try and strengthen.

"It was difficult all around in the summer. I was a new manager, we didn't have recruitment staff, I was busy in pre-season and the lines of communication maybe weren't there.

"But from that moment on, we got the recruitment team in, the lines of communication are very clear, every knows where they are at - there is a small group of us who communicate a lot and look at the players we want to bring in. It has worked very, very well and that relationship will only get better going forward. We are all very happy. "
Coutinho began his footballing career at Vasco de Gama.  Inter signed the player for £3M when he was 16, although he stayed on at Vasco until he turned 18.
He arrived at Inter just as Rafa Benitez joined in the summer of 2010.
In his first 18 months at Inter he made 26 appearances, scoring twice.  In January 2012 he joined Spanish side Espanyol on loan for 6 months - scoring 5 times in 16 appearances.
Last summer he returned to Inter, and has scored 3 goals in 11 appearances this time around.