Liverpool's club captain Steven Gerrard has extended his Liverpool contract.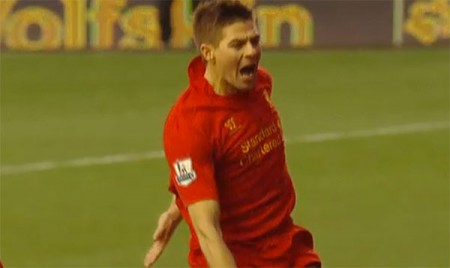 Gerrard's contract was due to expire at the end of the upcoming season, but the club and the player have negotiated a new two year deal that will secure his services until the summer of 2015.
Gerrard will be 35 years old at the end of his new contract.
The club announced the deal this afternoon.
Gerrard said:
"I think everyone knows what it means to me.

"I've been here that long and so to extend, it's a big day for me and I'm really happy for myself and my family. It's great news.

"It lets me know the club thinks an awful lot of me and want me here.

"I'm glad it's all done and it's happened at the right time before the season, so I can just focus on playing as well as I can."
Ian Ayre, the reds MD added:
"He is - and always has been - such a big part of Liverpool Football Club. Particularly in this day and age, it's rather unique to find a local player who has given his whole career to his club.

"We're pleased today to add an extension to his existing agreement and that keeps him here until the end of his career.

"We've said what we'll do in two years' time is review it again and see how happy Steven is. We seem to always be happy with him, so hopefully we'll just continue in that vein."
Steven currently has made 630 appearances for Liverpool, and is 8th on the all-time list of club appearances.  A successful injury-free season could see him rise to 3rd in the all time list if he notches up another 36 appearances, although he has some way to go to dislodge Jamie Carragher's second place record of 737 appearances.